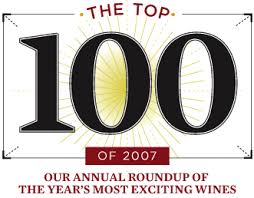 This is the Wine Economist's 100th post.  The idea of a Wine Economist Top 100 — my 100 best blog posts — is therefore kinda ridiculous.
But my wine enthusiast friends hungrily devour Top 50 and Top 100 wine lists even though the idea that it is possible to identify and rank the Top X [fill in the number] wines is kinda ridiculous, too, although in a different way. This provokes a digression on wine rankings and a brief report on what I've learned so far from writing this blog.
Supply and Demand
Ranking wines from 1 to 100 is certainly not an exact science; there are literally  thousands of wines on the market, so narrowing down the list to 100 and then actually ranking them from bottom to top (with no ties) is necessarily a problematic exercise when examined closely.
Individual tastes differ significantly and consumers are not uniformly able to detect even objective qualities in wine (much less make comparable subjective judgments), so it is hard to see why so many people take these ratings so very seriously. But they do.  It's a matter of demand and supply.
Consumers demand wine rankings.  They use Top X lists as guides to shopping (or investing) and sometimes as a means to establish status or credibility with other wine enthusiasts.  This makes top wine lists a really useful tool for wine merchants and distributors, who supply what consumers demand (and sometimes try to help the demand along a little, too).
Wine critics must feel some pressure to supply what buyers and merchants want.   The Top X lists get so much attention that any critic who fails to issue a ranking must be a little bit concerned about the effect of this action in the crowded wine opinion marketplace. If I ranked wines, which I don't, I'd sure want to publish a Top X list of some sort if only to draw attention to my other work. Everyone has an interest in these lists, so it's no wonder they are so popular.
Winner-Take-All
It is interesting to consider how Top X lists and the attention they receive  may have invisibly shaped the wine world. Cornell economist Robert H. Frank has written two books that are worth reading in this regard.  The Winner-Take-All Society (co-authored by Philip J. Cook, 1995) looks at what happens when market attention is focused on a few top-rated products.  The result, not surprisingly, is that everyone wants the best (or what is rated the best) and the nearly-as-good and really-quite-pleasant are left behind. Who wants to drink pretty good Chardonnay when you can get a 90+ bottle for the same price (even if you cannot really taste the difference yourself)?
The book's subtitle tells you where the argument goes: "How more and more Americans compete for fewer and bigger prizes, encouraging economic waste, income inequality and an impoverished cultural life." If you've seen Mondovino, you know what Frank and Cook are talking about.
Frank's 1999 book Luxury Fever continues the argument, looking more deeply at the impact of a world where status, identity and satisfaction are linked to money and the purchase of top-rated products.  Frank talks about the high price that some consumers will pay for goods that are just a little bit better or harder to get.  He calls it the "charm premium."  Unsurprisingly, he cites the "charm premium" that highly rated ultra-premium wines receive as an important example (pp. 29-30).
Elite winemakers can mine the charm premium effect by offering increasing expensive variations on their main product: regular bottling, reserve, single-vineyard and so on. Each increase in perceived quality (or decrease in general availability) produces a disproportionate increase in price.  Or at least that's how it is supposed to work.
Some wine merchants and producers see the charm premium in a different light.  Wines that get 95+ points sell out immediately — they essentially don't exist.  Ultra-premium wines that receive less than 90 points are hard to sell, because no one wants a merely very good wine when they can get an apparently excellent one.  (I understand that there is at least one wine store that automatically discounts any wine that is cursed with an otherwise unsellable 89-point rating.) That just leaves the 90-94 point wines and large charm premiums are sometimes paid for what must be impossibly small absolute quality differences within this range.
Wine buyers are a diverse group and so it is dangerous to generalize, but a lot of them search not just for good wine, but for the best wine (or the best wine value).  For better or worse, Top 100 lists have evolved to satisfy that demand and have therefore helped spread luxury fever and create the winner-take-all wine market segments we see today.
Lessons Learned
I've been writing this blog for about a year and a half and it has been a great experience — I've met a lot of thoughtful, interesting people and had some great wine conversations.  Because my posts are a bit longer than most — about 900 words on average — the total 100-post output is equivalent to a short book.  What have I learned from this process?  Well, I know a little more about what internet wine readers are looking for.
The most popular Wine Economist article in its 100-post history is my piece on Decanter magazine (The World's Best Wine Magazine?), part of an occasional series on wine critics.  This post gets a lot of hits because the web is crawling with people searching for "best wine," "best wine magazine" and "world's best wine."  The winner-take-all dynamic this represents shows up everywhere, even in my blog stats.
Almost as many readers are searching for the best wine value, which   explains why my posts on[Yellow Tail] Tales and Costco and Global Wine are the second and third most read articles on this blog.
Wine industry readers are worried about the future, as most of us are in this economic environment.  This helps explain why How will the Economic Crisis affect Wine? and Big Trouble Down Under: Crisis in Australian Wine receive so many hits.
Finally, many readers come here looking to unlock the mysteries of the wine buying experience.  What do the ratings mean?  Who are the most credible wine authorities?   This search leads them to posts onWine by the Numbers and Masters of Wine (and Economics), which get dozens of hits each week.
Thanks for reading The Wine Economist.  I'll give an update on trends in reader interests and concerns in a few months, when I published the Wine Economist Top 150.